If I had become the tambourine girl for a rock band, it would be in this band and no other: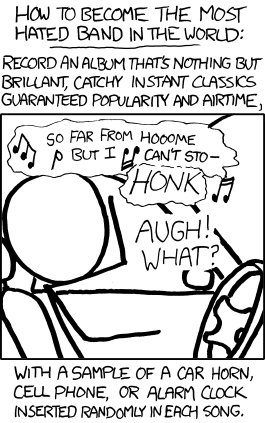 xkcd
Posted by Soo Mi at 8/24/2010 06:38:00 AM 2 comments  

First, I have 116 on the brain again. My favourite lines are highlighted:


Let me not to the marriage of true minds
Admit impediments. Love is not love
Which alters when it alteration finds,
Or bends with the remover to remove:
O no! it is an ever-fixed mark
That looks on tempests and is never shaken;
It is the star to every wandering bark,
Whose worth's unknown, although his height be taken.
Love's not Time's fool, though rosy lips and cheeks
Within his bending sickle's compass come:
Love alters not with his brief hours and weeks,
But bears it out even to the edge of doom.
If this be error and upon me proved,
I never writ, nor no man ever loved.


Whoever Shakespeare was or wasn't, the man was a genius. Does not your heart swell and sing to hear those words aloud? My own heart often melts to these words, although never once has my heart been gifted these lines from its love. Occasionally, the sonnet only brings to my heart a pang of sorrow, a longing it cannot express, a need that cannot be filled. These are days when my heart quietly weeps; the world seems to possess a little less sparkle and the blue sky does not cast its calming spell upon me.

---

The time has come to find a dress again. I have found the one I adore, the one I must have, the one I will call half-way across the US and pay out the ear for shipping to possess. Or not, if I try a little harder to fall in love with some other colour and style. But why must I always compromise? I love whom I love, I want what I want. And yet...

I have wanted a dress in a sky-blue colour for years. I've become so bored with black. It's all I've worn for years, no matter the occasion. Unable to find something different locally, I made my dress last year, a magnificent magenta that fell all the way to the floor, with a super-sexy deep v-neck. But to wear it two years in a row is a major fashion faux-pas. I am once again in search of my dream gown. I cannot believe how difficult this quest is. It's easier to take down an Epic Godslayer.

Oh, and I find it ironic that as someone who describes her personal style as "wash-n-wear," I really do enjoy metamorphosing into a princess.

Posted by Soo Mi at 8/16/2010 11:29:00 AM 0 comments  

I have been wondering about the time I believe I waste every day. I am not a good night-time sleeper, and I haven't been for years. Slowly I've become a morning sleeper. I would get the kids off to school and then go back to bed, crashing hard into a deep, satisfying sleep that just doesn't seem to happen at night. This was never much of a problem until I started working.

Most workdays for me end between 10 pm and midnight. By the time I get ready for bed and am relaxed, it's after 1 am. I get up again around 5:30 to get Mister and the kids up and ready for their day, then I go back to sleep until around 11 or 12. My plan always is to wake by 9:30 but I usually just shut the alarm off at that point and continue sleeping.

I usually wake up feeling more refreshed than I've felt in years, which is a good thing. Unfortunately, this leaves me little time to properly delve into the mundane household tasks that await me. I have been rather unsuccessful in getting The Others to assist; they only do so after I lay down some heavy guilt.

I really need to find another way of operating. This has gone on long enough, I think, and it feels like it's time to change. I'm just not sure how to fix it.

Posted by Soo Mi at 8/12/2010 11:50:00 AM 1 comments